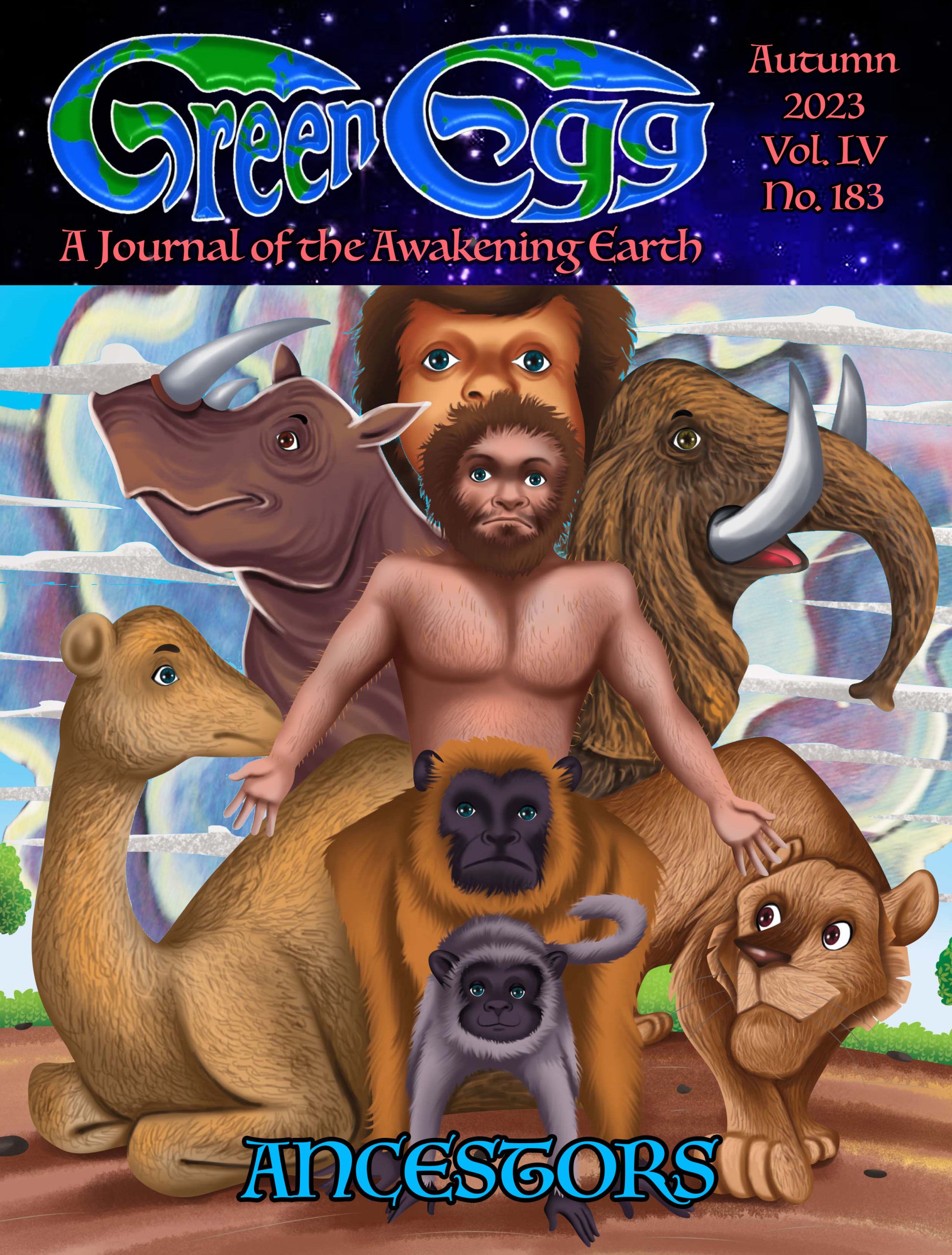 With each purchase of Green Egg you get the entire issue
with all content in a downloadable PDF for only 3.50!
Also Available
An Anthology of Art and Articles from the Legendary Pagan Journal
by Oberon Zell-Ravenheart
The Green Egg hatches again!
Green Egg, the legendary journal of the Church of All Worlds, reappeared Ostara 2020 for its Spring issue, #171. With roots in the 1960s, a history of unifying the global Pagan community, and legions of fans everywhere, GE enters the new decade with renewed optimism, devotion, and determination to change the world. Be a part of a visionary movement for the 21 st century and beyond.
Green Egg was first published by Tim (now Oberon) Zell on March 21, 1968. From then through 1979, Tim, Julie, Morning Glory, Don Wildgrube and Tom Williams produced 79 issues in St. Louis. Then followed a 9-year hiatus, as Tim, MG and Tom all moved to new lives in NorCalifia.
Nine years later, after many amazing adventures (including eight years of rural homesteading, raising Unicorns, overseas travels, and diving for Mermaids in New Guinea), Oberon and Morning Glory decided to resurrect their beloved magazine. Under the editorship of Diane Darling, Green Egg once again arose like a Phoenix. The first new issue, #80, appeared at Beltane of 1988, featuring OZ's spectacular color image of a rising Phoenix on the cover.
In honor of the new Star Trek series that premiered at the same time, it was subtitled: "The Next Generation." Within a few years, GE had again risen to prominence as the foremost "Journal of the New Pagan Renaissance." With articles by such luminaries as Jacques Vallee, Robert Anton Wilson, Starhawk, and Joanna Macy, it won many awards, including three times the Wiccan- Pagan Press Alliance Gold Award for "Readers' Choice."
The last print issue of Green Egg was in 2000, shut down by a hostile CAW BoD based in Ohio. It was revived as an e-zine in 2007 and produced for another 26 issues.
And now, at the dawn of a new Renaissance decade, we present to you the newly-resurrected Green Egg! Produced by Brahn th' Blessed (editor),  Katrina Rasbold (editor), Rev. Judith Barnett (publisher), and Oberon Zell (founder and visionary) this fourth incarnation will continue to "boldly go where no Pagan publication has gone before!"